RVCA PARIS 2021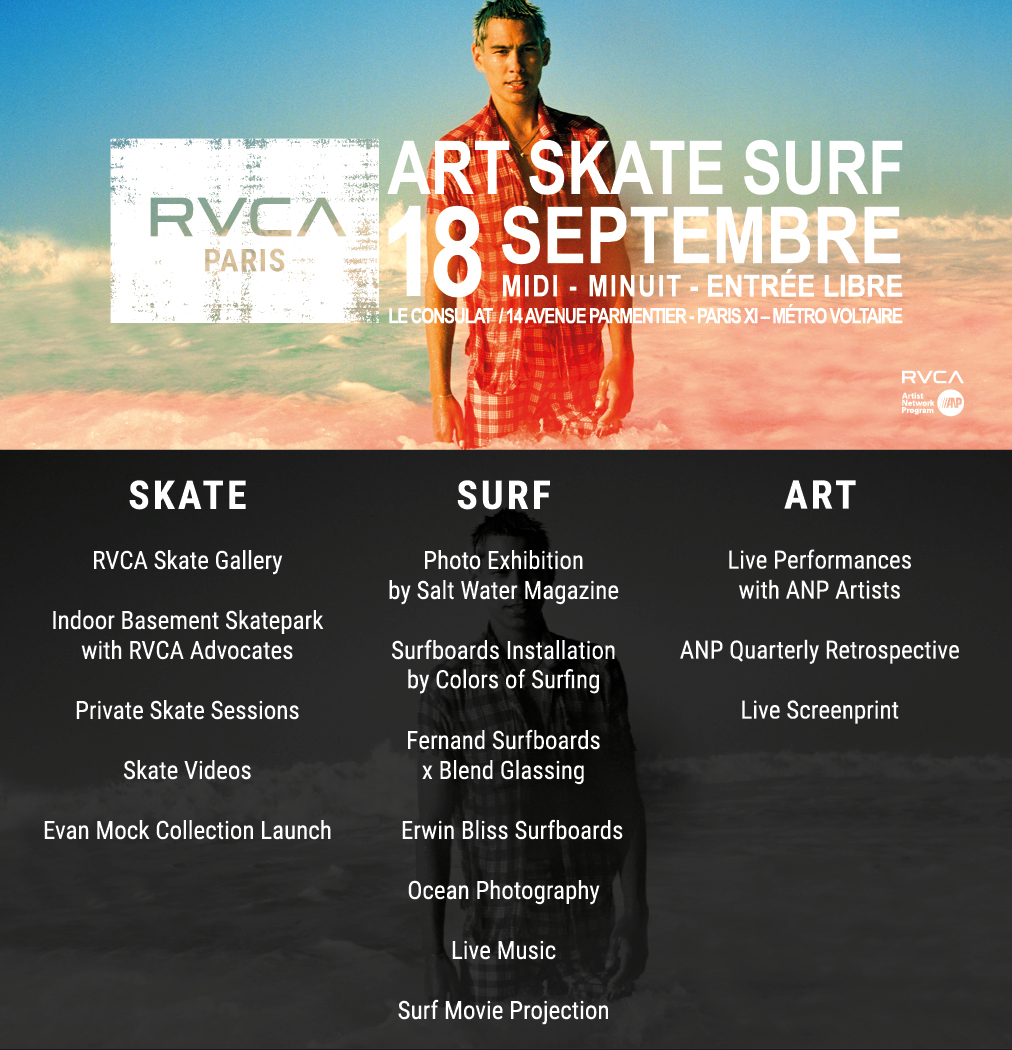 Over the years, RVCA has held countless Art & Music events which have dawn crowds of thousands from the community and afar. Not only have these shows afforded RVCA the opportunity to directly connect with visitors and influence them in one way or another, but they have helped to bring awareness to the amazing artists, advocates, athletes and musicians we work with and support. Exhibitions – large and small – have been held throughout Europe, Asia, North & South America and Australia.
On September 18th, from noon to midnight RVCA Paris will celebrate the diversity of RVCA and the Artist Network Program through Photo Exhibitions, Video Screenings, Art Installations, Skate Activations, Surf Exhibitions, Screen-printing, Tattoos, DIY workshops, Live Music and much more.
RVCA SKATE GALLERY
EVAN MOCK
"RVCA was always the company I wanted to ride for because Pat Tenore (RVCA founder) and I have been friends for many years - it has always been such a family affair... Everyone at RVCA accomplished everything I wanted for the collection. I feel so happy to have my name attached to it. It's very rare. This is a special one." – Evan Mock
"Evan and I have been friends for many years - I've watch him grow up from a young kid ripping around the North Shore to transcending and accomplishing big things in a big wayall around the world," says RVCA founder PM Tenore. "Since Evan was a young kid I always knew we would work together - our energy has always aligned. Team Wi-Fi for life"
ED TEMPLETON
Ed Templeton isn't an easy person to fit onto a page. The simple fact is that he's been involved with too many to put a clear label on him. Even when you attempt to separate his skate career from his art career, the task hardly gets less daunting. Besides holding one of skating lengthiest and most respected pro careers, he's the shadowy creative force behind Toy Machine Skateboards, which holds a history worthy of it's own bio. His involvement in art includes multiple mediums and he's enjoyed success in all of them, including his involvement in the Beautiful Losers project. With all the award and prestige aside, it's possible the most fascinating thing about Ed could be that since he first stepped foot on a board in 1985 he's managed to keep the fun in everything he does.
DEANNA TEMPLETON
DEANNA TEMPLETON HAS ALWAYS SHOT PHOTOS. HER MOTHER BOUGHT HER A CANNON T - 90 FOR COMING BACK HOME AFTER RUNNING AWAY. SHE WAS 15. THAT CAMERA GOT STOLEN FROM HER LUGGAGE ON HER WAY BACK FROM MEXICO IN 1987. SHE STOPPED FOR 3 YEARS. WHEN SHE WAS 21, SHE GOT A YASHICA POINT AND SHOOT. SHE SHOT SO MUCH, THAT I GOT HER A CANNON AE - 1 FOR CHRISTMAS ONE YEAR. SHE NOW HAS A WHOLE BEVY OF CAMERAS TO CHOOSE FROM, AND SEEMS TO ALWAYS HAVE ONE WITH HER. LOOKING AT HER PHOTOGRAPHS IS LIKE KNOWING HER. PHOTOGRAPHS SAY AS MUCH ABOUT THE PERSON BEHIND THE LENS AS IT DOES ABOUT THE SUBJECT. THERE ARE CHOICES INVOLVED THAT REVEAL THE SENSIBILITIES OF THE CREATOR. IN DEANNA'S YOU SEE AN EYE TO THE FEMININE EXPERIENCE—THE CRACKS THAT ARE FORMING IN THAT FALSE PERSONA OF BEING A GIRL IN THIS DAY AND AGE. SHE EXPLORES WHAT BEING A CHILD, OR A WOMAN FEELS LIKE TODAY. SHE GETS INSIDE THE MIGRANT WORKERS AND LITTLE IRONIES ON THE STREET THAT PASSES US BY WITHOUT A THOUGHT USUALLY. THE PHOTOS LEAVE YOU WITH MORE QUESTIONS THAN ANSWERS, LIKE GOOD ART SHOULD. – ED TEMPLETON
JÉRÔME ROMAIN
The eye of Jérôme Romain focuses on the daily and seemingly mundane objects, habits and events of his lifetime, yet he points at the beauty that inhabits them. His art is so precise, you might even call him a "hyper-realist", but that doesn't reflect his thought process. He doesn't just paint the object, he prioritises esthetics with meticulousness and method. Amongst other aspects, his work on light is a reminder of those created by the masters such as Le Caravage, Vermeer, De La Tour, and more recently Hopper for his cinematographic-like framing. Lives and works in France.
LAURA KACZMAREK
Born and raised in the German Ruhr Area, Laura Kaczmarek has steadily carved a very successful career for herself in recent years, shooting campaigns for the likes of Adidas, Carhartt, Rimowa, HUF, Stussy, to name a few. For all her photography talents, Laura's equally skilful on a skateboard. A self-described skate rat til she dies, Laura's passion and enthusiasm for life is contagious.
BENJAMIN DEBERDT
Benjamin Deberdt is a staple in the European skate scene. He's been influential in bringing an authentic portrayal of underground skate scenes across France and Europe. He started Sugar Magazine and now runs Live Skateboard Media, a European hub for quality skate clips.
MATHIAS FENNETAUX
Growing-up in Paris, Mathias Fennetaux is a self-made photographer. His versatile know how takes him in many different photographic fields. No skateboarding is first self-published project printed in 2011. The book is revealing a decade of unseen portraits of the world's most influential skateboarders of all time. He spent over a decade on and off in Los Angeles dedicated to this project. The book is bringing a fresh and intimate look over this underground generation.
JONAYD CHERIFI
Jonayd Cherifi captures looks, expressions and attitudes with disconcerting fluidity and clarity. Like an experiment with formats and colors, Jonayd presents us with raw and meaningful shots. Shadows cast down by objects constitute supports as well as minor details. Outdoor or indoor scenes, the photographs come together without looking alike. Broken skateboards and hoods of cars rub shoulders with silhouettes of women and cigarette smoke.
SKATE'HER
SkateHer is a women's collective that aims to develop the practice of skateboarding for inclusive purposes, and to promote the values and culture of skateboarding. The collective is managed by Lucie Curutchet and Gaëtan Ducellier, and is composed of about ten active members from the skateboarding world.
INDOOR BASEMENT SKATEPARK
Private Skate Sessions
RVCA AFTER SURF
PHOTO EXHIBITION
Salt Water Magazine is a bi-annual printed magazine focused on the revolution that is shaping alternative surf culture all over the world. We believe that surfing has a lot more to offer than performance shortboards and wave pools, and we make this magazine for people who share that belief. This is a place for creators to express themselves and share their art. We hope it inspires the rise of a wild new era in wave riding.
Discover the 'After Surf' exhibition with selected photographers :
Julien Binet , Yentl Touboul, Oscar Valencia, Nil Puissant & Rémi Bedora
ERWIN BLISS
RVCA Advocate Free Surfer | Shaper bLI$$ Surfboards
'WEB'Filmed over a year between Europe, Australia and the Caribbean,
WEB is the latest joint project between Erwin Bliss and filmmaker Yentl Touboul from Wasted Talent Magazine.
COLORS OF SURFING
SURF - APPARELS - COFFEE - ART
Colors of Surfing is a unique concept offering the opportunity to ride premium surfboards exclusively handcrafted by French shapers. A collection of 40+ original surfcrafts to find your dream board. More than a surf concept, Colors truly is a living place and chilling spot with a friendly atmosphere. The brand offers timeless & eco-friendly textile collections. You'll be seduced by the selection of local artists & cool brands. Surf, coffee, apparels, art & events, meet Louisa & Antonin at the shop downtown Biarritz and discover their universe

COLORS OF SURFING - Since 2020
22 avenue de Verdun, Biarritz, FRA
FERNAND SURFBOARDS x BLEND GLASSING
An original collaboration between RVCA ambassadors Fernand Surfboards and Blend Glassing has given rise to an artistic quiver of 5 unique numbered surfboards. The whole project was filmed and photographed by Alberto Scattolin to offer you a "DUSTY SKINS" photo exhibition.
FABIEN VOILEAU
Born 1984. Auckland/Paris based. Fabien Voileau a FRENCH PHOTOGRAPHER. HIS WORK DEPICTS A LOVE TO GREAT OUTDOORS AND A PASSION FOR INTIMATE PORTRAITS. RAISED NEAR FRENCH COASTAL TOWN NANTES, FABIEN HAS KEPT A DEEP CONNECTION TO THE OCEAN THAT LEADS HIM TO WORK FREQUENTLY IN AUSTRALIA, CALIFORNIA AND FRENCH PAYS BASQUE. FABIEN IS A MEMBER OF PATAGONIA "CHANGE MAKER" COMMUNITY. HIS WORK HAS BEEN EXHIBITED IN PARIS, TOKYO AND BYRON BAY. » REPRESENTED BY LA COMPANY. SUPPORTED BY LEICA CAMERA & ORIS.
SPOE
Thibaut Paruite aka SPOE is a multi-disciplinary artist & Surfboard Shaper, living & working in Biarritz (France).
His photographic inspiration comes from everyday life and his output ranges from spontaneous shots to specific series, created by both film and digital cameras. He sees photography as a way to focus on the details & documenting a Surf Culture.
DEAR OCEAN
3 TOMES OF PLASTICS.
7 years selecting rubbish ended up on the French south-west coast's beaches.
16 photographic series: DEAR OCEAN
LIVE PERFORMANCES
MARK OBLOW
Born and raised on Oahu, Hawaii, Mark Oblow's illustrious and creative career started as a sponsored surfer at a young age. Turning full-steam towards his true passion for skateboarding at 12 years old, Oblow rode for prominent brands, Vision Skateboards, Independent Trucks and Jimmy-Z. Relocating to California in 1990, he became an integral and influential leader with color, vita shoes, indian ink, prime, etc.
A culmination of his life experiences within photography and art, Oblow captures, cuts, paints and immortalizes his subjects within his growing journal entries, mural installations, block prints, and canvas', all barreling towards what is identified as a true artist. He is endorsed by the impossible project, Stance socks and the speed merchant. Mark Oblow's solo works have shown in California, Brazil and Japan with group shows in Antwerp and Tokyo."Moblow" is his namesake DIY lifestyle brand was released in 2015.
BENJAMIN JEANJEAN
Searching for reality in the unconscious, broadening the human logic with absurdity, following a philosophy based on irrationality – Benjamin JeanJean's art is the result of a constant search for an open mind. His profound drawings make the viewer confront their own vanity and covert desires and unfold the depths of their subconscious by turning objects into symbols and vice versa. Based in Southwest France, Benjamin JeanJean's artwork stands for a neo-symbolism based on contemporary aesthetics. By combining linear elements with ephemeral objects he creates subtle sequences of the modern world that provoke images and emotions but leave the observer to associate with them.
REMIO
Remio is a bit of a mystery and he prefers it that way. A prolific graffiti artist originally from Norway, he has found a way to make his mark in almost every country in the world. He is a member of the VTS crew and comes to RVCA on strong commendations from RVCA friends Barry McGee and Os Gemeos. And like many talented artists who learn their craft at street level, Remy has started to make a successful entry into the gallery and museum world. Vandal Team Supreme | Very Top Secret | Vandal Travel System | Vandallze Till Sunrise
ANP QUARTERLY RETROSPECTIVE
ANP Quarterly is an arts magazine published by RVCA with a focus on a broader sense of art and community. The idea behind this endeavor is to make a magazine that will educate and inform openly and without the social or financial restrictions that plague many publications today and contribute more often than not to the "same old thing" again and again. Our goal is not to focus on current events or "who's hot" but rather to bring forward people and phenomena that deserve acknowledgement and coverage regardless of their place in time.

Or as long as we can make it happen, this magazine will be completely free and without advertising. We are beholden to nobody, save our own conscience, RVCA included. ANP Quarterly will be distributed around the world through galleries, bookstores, clothing and record shops.
LIVE MUSIC
LIVE MUSIC
Saturday, September 18th 2021
Noon - Midnight
Free Entry
14 avenue Parmentier
75011 Paris, France
Métro : Voltaire (9)
Vélib : station "Mairie du 11ième" ( n°11024)
Bus : n°56 Voltaire - Léon Blum
Chemin Vert // n°69 Popincourt
Instagram :
#RVCAParis