RVCA Women's | Meet Camille Rowe
Meet RVCA fashion muse, French-American model & actress Camille Rowe
Globally renowned for her impeccable style, Camille Rowe has collaborated with RVCA to launch her first collection for Fall 2021. From the runway, to her off-duty street look, Camille is the epitome of quintessential Parisian style and California cool which is reflected in this line.
Discovered on the streets of Paris while studying at University, Camille has since been the face of storied fashion houses including Louis Vuitton, Dior and Chloe. She has graced the covers of Elle France, Playboy and L'Officiel magazines, collaborated with British Vogue, and has starred in music videos and on the silver screen.
A longtime friend of RVCA founder PM Tenore, Camille is no stranger to the contemporary art world and underground skate and surf communities that RVCA supports — and through their friendship a fashion collaboration was born.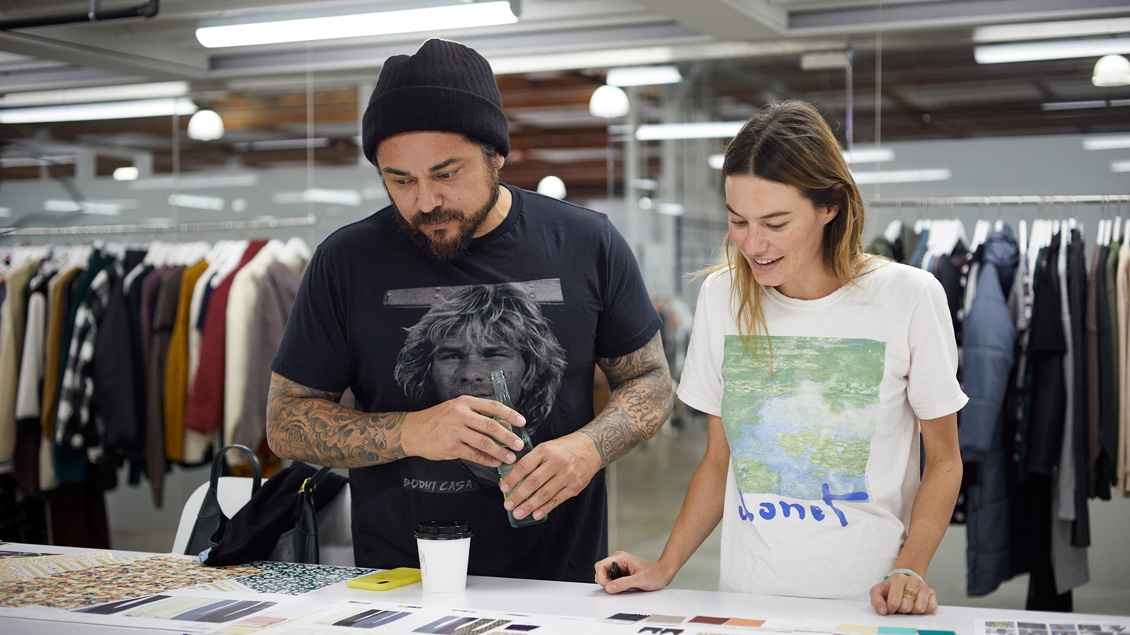 "After years of knowing Camille, one can't help but notice her effortless style, curiosity for travel, and her love of culture, music and design. There was a definite ease to collaborating together. Her distinct aesthetic shines through and adds a personal touch to the RVCA women's line," says PM.
Get to know her more, and get a sneak peek of some exciting things to come, in this one-on-one interview with our muse du jour.

What inspires you?
I'd say movies and music and musicians inspire me the most. But I can get inspired by whatever book I'm reading, or art.
Can you name a favorite project that you've worked on?
The RVCA collaboration has been a real highlight. The team was so friendly and hard-working and really open to any ideas I would get. It's so fun to get to be that creative and see visions materialize. The collection really is my dream wardrobe. I'm so happy with how it turned out!

What is your relationship to RVCA Founder PM Tenore?
I've sort of known about him for years. In my 20's living in NYC, I was surrounded by a ton of skate culture. We met when I moved to LA and obviously had loads of friends in common. I have so much respect for him and what he has built. It's amazing! He's really open minded when it comes to art and sports, working with so many different kinds of people.
Can you share a little bit about the inspiration behind the RVCA x Camille Rowe collection?
I've always been drawn to the 70's and it's a big part of the inspiration. I was trying to pinpoint that cross over between what we think of as 'French style' and the California girl – comfort but with a lot of attitude.

Any favorite pieces from the collab?
I love all the corduroy pieces: the trousers, jacket and little lace-up shorts are a dream.
Where is your favorite city that you travel to?
Ahhh there are so many. Paris is home so I'm always happy to go back. But nothing beats the Mediterranean. Corsica, Greece, Italy…

How has your personal style developed throughout your life?
To be honest it's wild how consistent I've been. I guess I was more of a tomboy as a child until high school, when I went through a huge mod phase – heavy bangs, high boots, petticoats... My style in NYC was a bit more on the wild side, as we all used to go out so much. I'd say I'm a little more classic now, but I always keep a bit of a 60's and 70's feel to the way I dress.